The #1 Source of RSS Feeds
Connect with Information You Care About
Get RSS Feeds from almost any webpage
Get Started Now
Instantly generate RSS feeds from any URL
+2,693
New Users Joined
Last Week
Trusted and used by thousands of companies
3 Reasons Why You Should Use RSS.app
Generate RSS feeds

No coding required. Our feed generator can pick the right content for you

Embed News Feeds

Add auto-updated dynamic content to your website or mobile app

Increase Engagement

Syndicate your content and make it easy for users to access and consume your content
Top Features
No Coding

Simply copy and paste the URL into the feed generator or RSS builder

Customization

Extract large images & customize your feed with advanced filters

Auto-updated

The feed will update automatically, so you never miss any updates

Dynamic Widgets

Bring content to your users with adaptive and simple widgets
Generate RSS Feeds
Aggregate and curate your favorite websites by turning them into auto-updated RSS feeds. Fastest RSS finder and creator on the market
RSS Generator

Generate a feed from almost any website using our advanced AI

RSS Builder

Manually select the elements you want to include in your RSS feed

No Coding

Coding not required! Just enter the webpage URL to get your RSS feed

1000+ Sources

Support for thousands of popular websites to create your RSS feed from

RSS Finder

Discover and subscribe to new RSS feeds with our advanced RSS Finder

Social Media

Get new content from almost any website or social media with our feed generator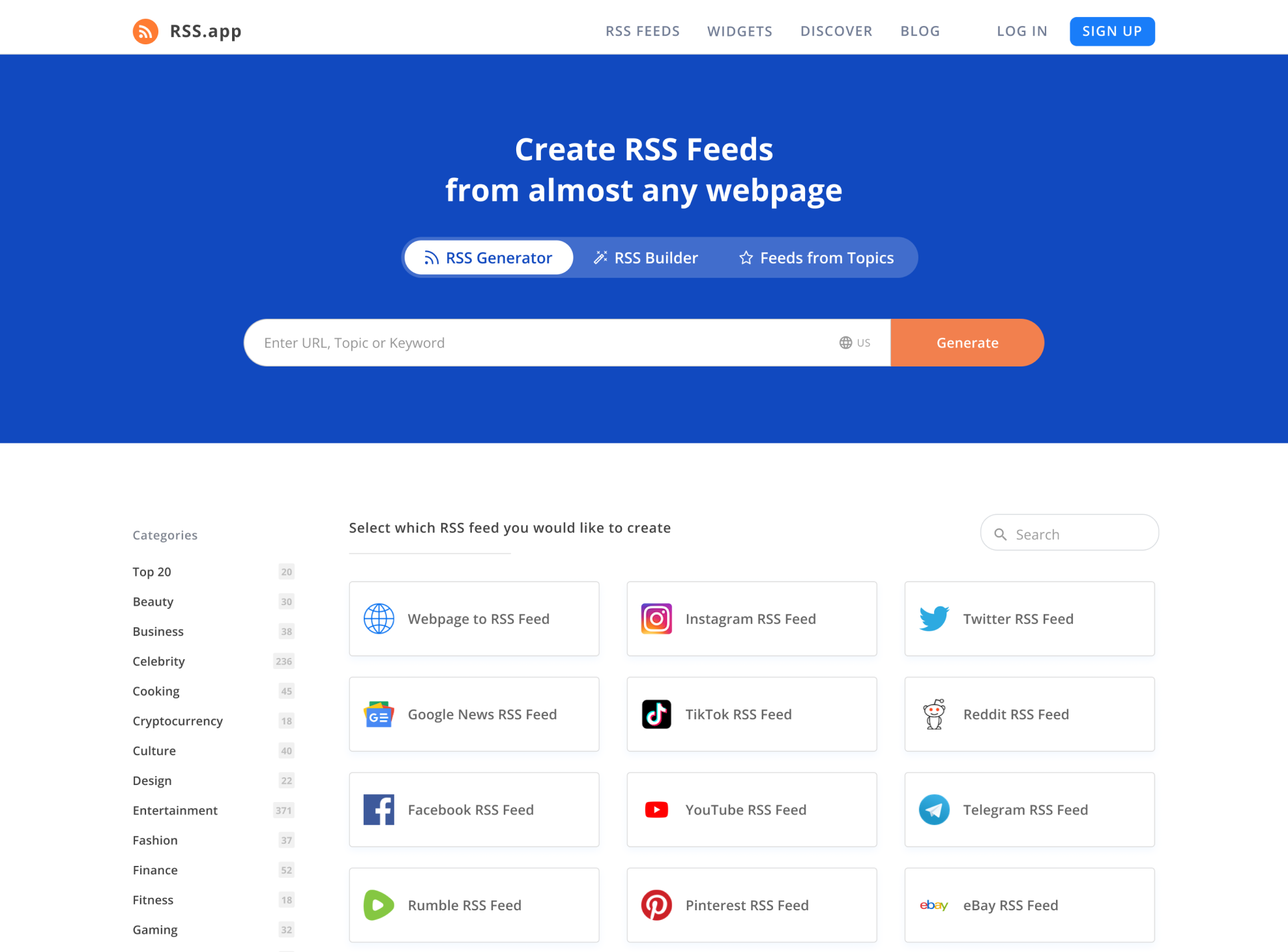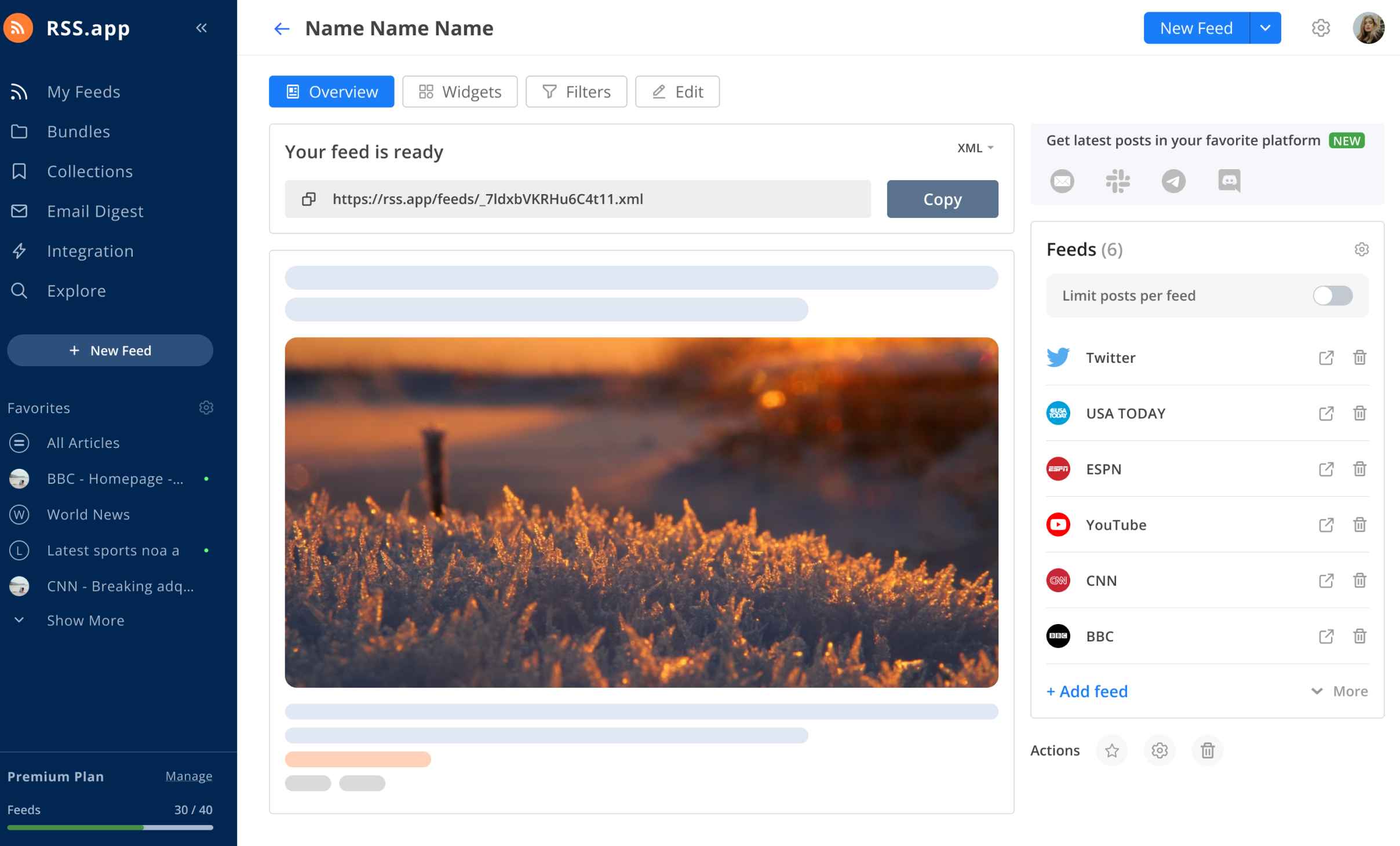 Embed News Feeds
Take control of your content using our cloud based all-in-one news feeds solution. Easily embed dynamic content on your website
The easiest way to generate and consume RSS Feeds
Tools designed to simplify the creation and management of RSS feeds. For beginners and professionals
RSS to JSON

JSON can be easily parsed and integrated into a website or app

RSS to Email

Receive a daily email of the newest posts in your RSS feed

RSS to CSV

Easily extract and analyze data from multiple RSS feeds

RSS API

Build applications that utilize RSS feeds programmatically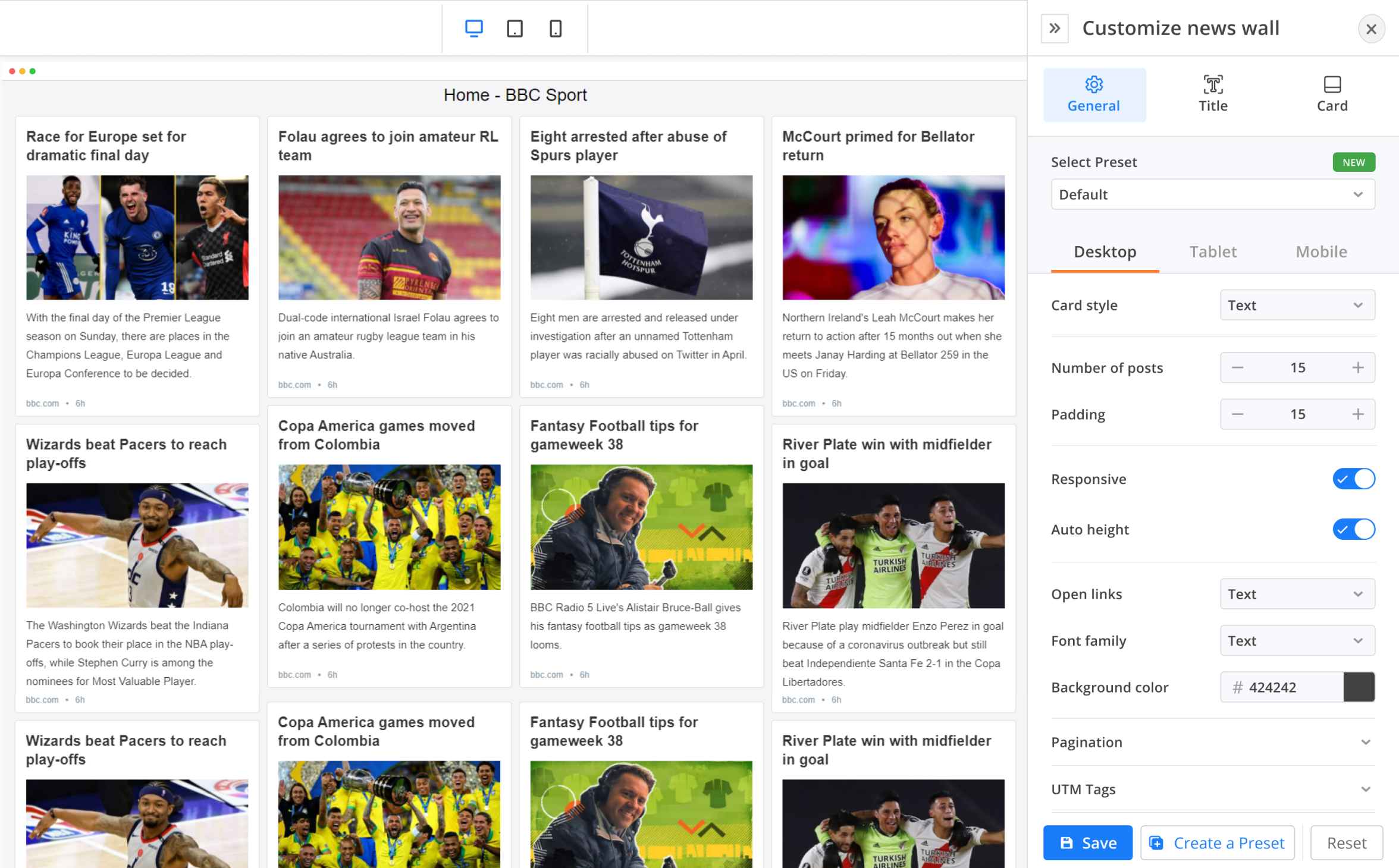 RSS Widgets for Your Website
Widgets are easy to embed and can be customized to fit the look and feel of your website
Customize Widgets

Improve user experience and increase engagement with customizable RSS widgets

Create Presets

Save customized widgets as presets and quickly apply the style you wish to use

RSS Widgets

7 RSS Widgets: Wall, List, Carousel, Imageboard, Ticker, Magazine and Feed

Apply Custom CSS

Add advanced styles to the widgets by applying custom CSS styles
How are RSS Feeds used?
RSS feeds are a convenient way to stay up to date with the latest news and content from your favorite websites. Here are some common use cases for RSS feeds
News Aggregation

One of the most popular uses of RSS feeds is to aggregate news from multiple sources into a single feed

Personalized Content

Many websites offer RSS feeds for specific topics or categories to help you get relevant and up-to-date content

Research and Monitoring

By subscribing to RSS feeds from industry blogs, news sources and social media, you can follow the latest trends in your field

Podcasts and Video

RSS feeds can also be used to subscribe to podcasts and video feeds. And also use for your channel or podcast

Content Marketing

For their blog or website, they can make it easy for readers to subscribe to updates and receive new content after publication

Competitive Intelligence

Businesses can use RSS feeds to monitor their competitors' websites and social media profiles for updates and news

Customer Service

Businesses use RSS feeds to monitor social media channels and customer review websites for mentions of their brand

Internal Communications

Share internal company news and updates with your team and coworkers

E-commerce

Notify customers of new products or promotions with RSS feeds
RSS Feed Integrations
Make your RSS feed work better by integrating with your favorite platforms. Save time by connecting your tools together. No coding required
News Feeds For Your Website
Add dynamic news feeds to your website using our customizeable widgets. No coding required!
Website Integrations
Top RSS Sources
Get the latest news and updates from top sources with RSS feeds. Stay informed on world events, technology, business, and more
Web to RSS

Web to RSS keeps you updated on the latest news and updates from websites that don't offer RSS feeds

Google News

Google News provides RSS feeds for a variety of categories such as world news, business, technology, and more

Twitter

Offers a Twitter RSS feed generator that allows you to create feeds for individual users or specific keywords

YouTube

YouTube provides RSS feeds for channels, allowing users to receive updates on new video uploads

TikTok

Provides a TikTok RSS feed generator that allows you to create feeds for a specific TikTok user or search term

Topics and Keywords

Create your own RSS feeds based on keywords or topics and receive updates every time new content is published
Read What Our Users Say

I tried several RSS feed generators and the one that worked best, aside from being the simplest, was RSS.app. It's great how useful the tool can be for somebody that doesn't know how to code.

Isaac Halvorson
iOS Developer hisaac
I've long wanted an app that generates RSS feeds from social media sites, and while there are other options that do it (IFTTT, Zapier, etc.), this is the first one that is dead simple, and works out of the box.
Join thousands of happy users!
No credit card required
7-day free trial
Cancel anytime